vr/360 update 2015
Hey, 2015 is here, and my website vr/360 full of spherical panoramas now supports all new technologies, bells and whistles.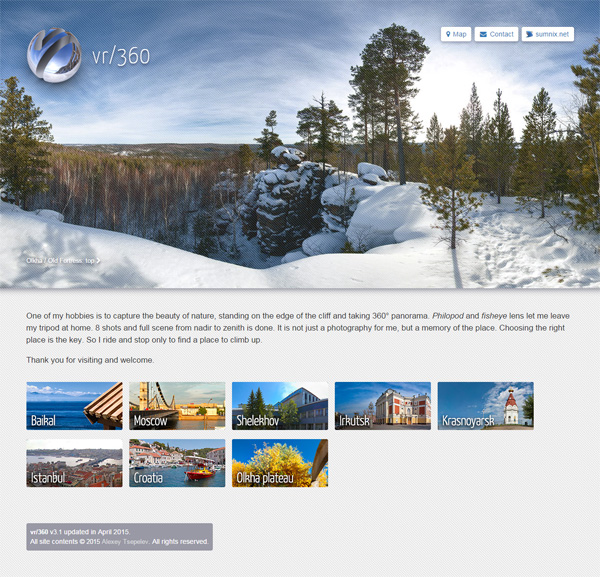 From now on it is white! White diagonal stripes, light themes and cool thin font-faces.
The interface has become adaptive or elastic, as we call it in Russia. That means it should work with all types of screens, mobile, wide, narrow, square, well, except the High-DPI ones (a to-do for the near future). The old browsers are not supported. I like CSS3 and Bootstrap. Sorry, those who came with programs of the previous decade, I am tired to fight with IE and its versions.
The flash player was finally dumped to the back-up role, nobody uses it nowadays and that's sad, I have only good memories. It was replaced with a new shiny HTML5/CSS3/WebGL script from Pano2VR, which should work flawlessly even with iPhones. Though the flash is still there, sitting behind the curtains and waiting for an unforgivable mistake of your browser to rise again and show you the content of the lost panorama. Flash's alive!
I drew a new simple skin containing only 3 buttons: zoom in, zoom out and fullscreen, which I find sufficient. Every panorama might be also double-clicked (double-tapped?) to enter or exit the fullscreen, cool, ha?
Almost all my panoramas are now exported by a time-saving script: tiles, previews, map coordinates and titles-captions. No need to remember all these dimensions, previews, paths to templates, strategic markers. Everything is done semi-automatically.
Another feature is the feed, so everyone who wants to follow all my new updates, please use these RSS or ATOM feeds. It should look simple: preview of new panorama and its short caption. If you like the picture, click on the link to see the fully interactive panorama.
Plus, the site has gained newly discovered (by me) semantic markup (RDFa) for search engines and crawlers. That was really interesting experience, I never paid attention to how the data is parsed and how the bots see it, now I do. Will try to make it better when I understand how it works.
Enough said. Welcome!

UPDATE
Almost forgot, if you are on a PC/Mac, you can use keyboard shortcuts:
M to see map
J to jump to the next panorama
K for the previous one
U to go up
H to go home
Cheers!